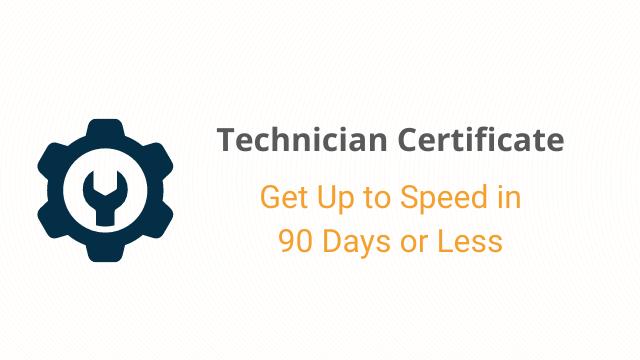 Technician Certificate Program
We will teach you exactly what you need to know in order to be a top tier building automation technician in less than 120 days completely online. Students will leave this track with knowledge that usually takes 3+ years on-the-job in less than 120 days and will be prepared to take on any BAS Project they encounter. It takes the average BAS Technician 3+ years to be able to independently execute a project. Smart Buildings Academy cuts through the learning curve. Students are able to choose from 3 Technician Certificate options: IT Option, Programming Option, or Troubleshooting Option.
Our Technician Certificate Program helps students to:
Independently execute projects in as little as 3 months
Complete all training online
Go from zero knowledge to installing and configuring a fully functioning building automation system from scratch in less than 120 days.
What is the Training Like?
Our technician certificate program consists of 90+ hours of online training, accompanied by exercises, knowledge checks, and how-to checklists. You will begin by learning the core building automation, HVAC, and IT theory. You will then learn how to perform all of the tasks required by a building automation technician. 
This program compresses a multi-year trade school education into 90 days or less of intense, self-paced online training. You will also be supported by our discussion forums and weekly live office hours. 
This is the exact training path used by companies like Trane, Albireo Energy, Sunbelt Controls, and many other companies. 
Moving Through the Certificate Program - The Curriculum:
Students will follow the curriculum below to complete the Technician Certificate Program. This bundle includes enrollment for 4 of the following courses. Students can choose their preference of three options for their fourth course (4a, 4b, or 4c). Please click the titles of the courses below to learn more about them.
1. Building Automation Fundamentals - BAS100 will teach students:
How a BAS works Common controls modes
Control theory and practices.
2. Control Sequence Fundamentals - BAS200 will teach:
How to interpret HVAC sequencing into controls theory
How to think from a systems perspective in order to effectively implement control sequences.
3. BAS Installation & Configuration - BAS300 covers how to:
Perform job take-offs
Line out installers
Install and configure field controllers
Setup and configure a full front-end including graphics, schedules, trends, and alarming
How to gather all project documentation to create as-builts in order to close out the project.
4a. Information Technology for BAS Professionals - BASIT100 provides hands-on experience with:
Networks
Servers
Databases
APIs
Cybersecurity
OR
4b. BAS Programming Fundamentals - PROG100 covers how to:
Create fully functional BAS programs from scratch using our design pattern methodology.
OR
4c. Troubleshooting BAS Systems - BAS330 covers how to troubleshoot:
BAS, IT, and HVAC systems
Resistive, voltage, and current inputs
Controller configurations
Serial network wiring and setup
BAS Servers and web servers
Databases
Firewalls and ACLs
Systems and devices for VAVs
Control systems for Chillers


Not sure which Technician Certificate option to choose? Give us a shout and we'll help you find the perfect program.

Want to purchase multiple seats for this
 

program?

For corporate pricing please email us or call 800-484-0113