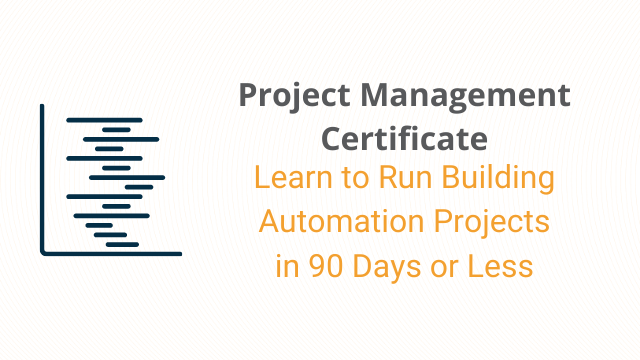 Project Management Certificate Program
In less than 120 days, students will be able to run their first building automation project on their own. The BAS Project Manager role is one of the most demanding roles in our industry. To be an effective project manager you must have a solid understanding of building automation, HVAC, and project processes. Our BAS Project manager track will teach you how to effectively run small and large projects on-time, on-scope, and on-budget. Scroll down to the Description section learn more.
 Our Project Manager Certificate Program helps students to:
Independently manage building automation projects in as little as 3 months
Complete all training online
Go from zero knowledge to managing building automation projects in less than 120 days.
Moving Through the Certificate Program - The Curriculum:
Students will follow the curriculum below to complete the Project Manager Certificate Program. This program includes the following 4 courses. Please click the titles of the courses below to learn more about them.
1. Building Automation Fundamentals - BAS100 will teach students:
How a BAS works Common controls modes
Control theory and practices.
2. Control Sequence Fundamentals - BAS200 will teach:
How to interpret HVAC sequencing into controls theory
How to think from a systems perspective in order to effectively implement control sequences.
3. BAS Installation & Configuration - BAS300 covers how to:
Perform job take-offs
Line out installers
Install and configure field controllers
Setup and configure a full front-end including graphics, schedules, trends, and alarming
How to gather all project documentation to create as-builts in order to close out the project.
4. BAS Project Management Bootcamp - PM100 teaches you how to: 
Forecast labor, material, and subcontractors
Manage change orders and scope drift

Oversee billings, TWC, and profitability

Perform project kickoffs and closeouts
Want to purchase multiple seats for this course?
For corporate pricing please email us or call 800-484-0113
Looking for a payment plan?
Choose SplitIt as your payment method during checkout. It allows you to split the price of the course into multiple payments over time using your credit card.
Wondering if your employer will cover this training?
Download our Request for Training Template and learn how to ask your employer.
Disclosure of Instructor's Proprietary Interests
The instructor, who is also the Smart Buildings Academy owner, may mention materials and/or products that are proprietary to Smart Buildings Academy. If these materials are required for the course(s) this will be clearly identified in the course's product description on our course page.
Additional Materials Required: NONE
You may also like:
In less than 90 days, students will be able to run their first building automation project on their own. The...